Doctor Omega and The Shadowmen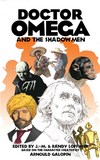 NOTE: YOU ARE PURCHASING AN E-BOOK, NOT A PAPER BOOK. WHEN ORDERING, PLEASE SPECIFY IN THE COMMENTS IF YOU PREFER A PDF OR AN EPUB FILE. THE FILE WILL BE E-MAILED TO YOU AS SOON AS PAYMENT IS RECEIVED.


DOCTOR OMEGA AND THE SHADOWMEN
edited by J-M. & R. Lofficier
based on the character created by Arnould Galopin
cover by Mike Shoyket

Doctor Omega defiantly bent his frame against the awful force, pulling back a big brass lever in the console with all his weight. There was a violent forward jolt, tossing my neck, legs and arms forcefully astern. The Doctor barked manically over the piercing screams of the motors, "Launch!"

Stories by Matthew Baugh, Thom Brannan, G.L. Gick, Travis Hiltz, Olivier Legrand, Serge Lehman, Jean-Marc & Randy Lofficier, Samuel T. Payne, John Peel, Neil Penswick, Dennis E. Power, Chris Roberson and Stuart Shiffman.

The mysterious traveler through the aether known only as Doctor Omega was created by Arnould Galopin in 1906 in his eponymous novel, first published into English by Black Coat Press in 2003. Since then, many talented authors have created new adventures for him.

This collection presents seventeen new Doctor Omega stories, seven of which never published before. Follow the enigmatic Doctor from the Wild, Wild West to the Vampire City, from Hollywood to Metropolis and beyond, as he encounters a host of other heroes and villains such as Sâr Dubnotal, Nosferatu, Professor Moriarty, Jirel of Joiry, the Bride of Frankenstein and the Three Doctors...

Contents:
Introduction by Jean-Marc Lofficier
Chris Roberson: Annus Mirabilis (Previously published in Tales of the Shadowmen N°2)
Stuart Shiffman: The Last Roundup (new)
Samuel T. Payne: Lacunal Visions (Previously published in Tales of the Shadowmen N°1)
Matthew Baugh: The Heart of the Moon (Previously published in Tales of the Shadowmen N°3)
Jean-Marc & Randy Lofficier: The Three Doctors (new)
Travis Hiltz: Three Men, A Martian and A Baby (Previously published in Tales of the Shadowmen N°4)
Dennis E. Power: The Deadly Desert Gnome (Previously published in Glimmerglass: The Creative Writers Annual Volume 1)
Dennis E. Power: Bronze Lady Down (new)
G.L. Gick: Beware the Beasts (Previously published in Tales of the Shadowmen N°3)
John Peel: The Dynamics of an Asteroid (Previously published in Tales of the Shadowmen N°5)
Neil Penswick: The Two Doctors (new)
Thom Brannan: What Doesn't Die (Previously published in Tales of the Shadowmen N°7)
Travis Hiltz: The Robots of Metropolis (Previously published in Tales of the Shadowmen N°7)
Olivier Legrand: Castle Atlante (new)
Samuel T. Payne: The Seeds of Cassiopeia (new)
Jean-Marc & Randy Lofficier: Doctor Omega and The Producers (new)
Serge Lehman: The Melons of Trafalmadore (Previously published in Tales of the Shadowmen N°2)