John Devil. Part 1: The Chateau de Belcamp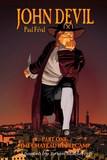 NOTE: YOU ARE PURCHASING AN E-BOOK, NOT A PAPER BOOK. WHEN ORDERING, PLEASE SPECIFY IN THE COMMENTS IF YOU PREFER A PDF OR AN EPUB FILE. THE FILE WILL BE E-MAILED TO YOU AS SOON AS PAYMENT IS RECEIVED.


JOHN DEVIL 1: THE CHATEAU DE BELCAMP
by Paul Féval
adapted by Brian Stableford
Frontispiece by Sylvain Despretz
cover by Andrew Paquette

"JOHN DEVIL! That name pursues me. Someone is beneath that mask and behind that lie! Will I die mad before strangling my executioner?"

In 1862, Paul Féval founded the magazine Jean Diable. Emile Gaboriau, creator of Monsieur Lecoq, was one of its editors. Lecoq later influenced the creation of Sherlock Holmes.

1817, England. Chief Superintendent Gregory Temple of Scotland Yard is mystified by the actions of a faceless crime leader who calls himself "John Devil" and is also known on the continent as Jean Diable and Hans Teufel...

Can the world's first scientific detective use his prodigious abilities to discover the secret identity of the elusive John Devil and capture him before the madman rescues Napoleon from Saint-Helens?

Written in 1861, John Devil will be of special interest to fans of detective stories, crime thrillers, classic mysteries, pulp literature and proto science-fiction.

Paul Féval pioneered the modern crime thriller, creating here both the first police detective (Gregory Temple is the first Scotland Yard Detective in fiction) and the first arch-criminal (John Devil is a proto-Fantômas) in popular fiction.

The villain's plot to use armored warships to free Napoleon and conquer India also makes it the first techno-thriller in popular literature. The book includes an authoritative introduction and historical notes by Brian Stableford.

Contents:
John Devil (1861) by Paul Féval;
Introduction, Afterword and Notes by Brian Stableford.
READ THE REVIEWS...
While I would not recommend JOHN DEVIL to the casual reader of the genre, I am sure that serious scholars will find plenty to interest them. Stableford has done a wonderful job of making this accessible to the modern reader.
Reviewing the Evidence

Feval's serial also spawned a long-running pulp magazine of the same name that Feval edited with Emile Gaboriau. The latter was influenced by Gregory Temple to create the Monsieur Lecoq series which influenced both Edgar Allan Poe's Monsieur Dupin stories and Sir Arthur Conan Doyle's Sherlock Holmes series. For this reason alone, serious students of detective fiction should have John Devil on their bookshelf as it is an essential step in the development of a genre that is still thriving 150 years on.
Black Gate