Jonathan the Visionary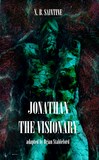 NOTE: YOU ARE PURCHASING AN E-BOOK, NOT A PAPER BOOK. WHEN ORDERING, PLEASE SPECIFY IN THE COMMENTS IF YOU PREFER A PDF OR AN EPUB FILE. THE FILE WILL BE E-MAILED TO YOU AS SOON AS PAYMENT IS RECEIVED.


JONATHAN THE VISIONARY
by X.B. Saintine
adapted by Brian Stableford
cover by Mandy
"Jonathan!" he cried. "God save me! Yes, it's him! I was very young when I saw you, but your features remain engraved here, and have not changed at all. You've come back again!"
X. B. Saintine (1978-1865) was a prolific dramatist who collaborated in more than 200 plays with Eugène Scribe and a noted figure of the Romantic Movement.

Jonathan the Visionary (1823) is a collection of fantasy tales told by a mysterious immortal called Jonathan (who is only featured as an active narrator in a few of them). It includes The Story of an Antediluvian Civilization, which retells the history of a civilization from Ethiopia, only a few distant echoes of which survive today. Ranging from prehistorical fantasy to post-apocalypse, it provides a prophetic indication of the manner in which our own civilization might degenerate. The fact that scientific and technological progress is presented here as a symptom of social disease makes Saintine's vision more modern and radical than any of his contemporaries.


Contents:
L'Histoire de Jonathan le visionnaire, 1823
Introduction and Notes by Brian Stableford.