The Daughter of Fantômas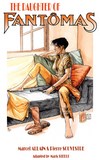 NOTE: YOU ARE PURCHASING AN E-BOOK, NOT A PAPER BOOK. WHEN ORDERING, PLEASE SPECIFY IN THE COMMENTS IF YOU PREFER A PDF OR AN EPUB FILE. THE FILE WILL BE E-MAILED TO YOU AS SOON AS PAYMENT IS RECEIVED.


THE DAUGHTER OF FANTOMAS
by Pierre Souvestre & Marcel Allain
adapted by Mark P. Steele
cover by Frederic Grivaud

Laetitia's pale lips hissed a name that left her shivering and frightened, a name of horror, a name of blood, a name that seemed to invoke death.
"Fantômas! You're Fantômas!"
"Quite right! I'm Fantômas! Didn't I keep my word, Laetitia? Don't they know me all over the world now?"
Was it really the elusive Fantômas, the criminal who had so easily avoided the most energetic efforts of some of the world's best police forces? Laetitia, who thought she would die of terror, finally asked:
"What do you want?"
"I've come," he said simply, "to reclaim my daughter!"


Fantômas rises from the grave (literally), having just escaped from the clutches of the Hangman of London, and leads his two nemeses, Policeman Juve and Journalist Fandor, on a wild chase that takes them from a plague-infested ocean liner to the deadly wastes of the South African Transvaal. Their goal: to rescue the only person the Lord of Terror truly loves: his daughter, the beautiful Hélène...

Never before translated, classic crime novel The Daughter of Fantômas, originally written in 1911, is adapted by Mark P. Steele who also adapted the Illuminatus! comics for Rip Off Press

"The opium-smoking, male-drag-donning, death's-head-tattooed daughter of Fantômas, Hélène is a bad girl at least half a century ahead of her time." Elliott Smith

Contents:
La Fille de Fantômas (1911) introduced by Mark Steele.