The Death of Fantômas 1: The Hemp Necktie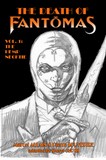 NOTE: YOU ARE PURCHASING AN E-BOOK, NOT A PAPER BOOK. WHEN ORDERING, PLEASE SPECIFY IN THE COMMENTS IF YOU PREFER A PDF OR AN EPUB FILE. THE FILE WILL BE E-MAILED TO YOU AS SOON AS PAYMENT IS RECEIVED.


THE DEATH OF FANTOMAS 1: THE HEMP NECKTIE
by Marcel Allain & Pierre Souvestre
adapted by Sheryl Curtis
cover by Mike Shoyket
Despite everything, the water rose, the foam, the white foam flowed over to the feet of Juve and Fantômas… Yet the air, which finally found an outlet, flowed from the cabin in a bitter whistle…
"Let's go!" stammered Fantômas. "It's over..."

From the deadly streets of St. Petersburg to the Palaces of India, from the back alleys of Paris to the deck of the Titanic, this prodigious saga tells the story of the death of Fantômas, and of his arch-nemesis, Detective Juve.

Defying the Tsar's secret police, Russian anarchists, Thuggee from India and Parasian Apaches, Juve, ably assisted by the intrepid journalist Jerôme Fandor, his beloved fiancée, Hélène, the alleged daughter of Fantômas, crisscross the world to finally meet their fate aboard a doomed ship in the North Atlantic.

The Death of Fantômas collects the final two volumes of the saga of the Lord of Terror (of which this is the first), initially released in 1913 and never translated before. The book also includes an introduction and a bibliography by Jean-Marc Lofficier.
Contents:
La Cravate de Chanvre (1913)
Introduction and Bibliography by Jean-Marc Lofficier