The Thieves of Silence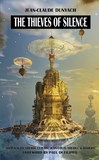 NOTE: YOU ARE PURCHASING AN E-BOOK, NOT A PAPER BOOK. WHEN ORDERING, PLEASE SPECIFY IN THE COMMENTS IF YOU PREFER A PDF OR AN EPUB FILE. THE FILE WILL BE E-MAILED TO YOU AS SOON AS PAYMENT IS RECEIVED.


THE THIEVES OF SILENCE
by Jean-Claude Dunyach
adapted by Sheryl Curtis, Jean-Louis Trudel & others
foreword by Paul Di Filippo
cover by Guillermo Vidal

"She's a thief of silence. She swallows all the sounds, the mindless babble and the unwanted echoes. She forces reality to keep quiet, so you're forced to listen to yourself. All that you have inside you, the vibrations of your brain, the melody of your guts. Your heartbeat, the obstinate rhythms in your veins, the shriek of your neurons. The music of your soul."

Sixteen amazing stories, with only four previously published in English, by the award-winning author of The Night Orchid.

A lonely astronaut shepherds a flock of artificial intelligences... A human is captured by a wish-seeking fairy... On a hostile world, a small band of scientists must survive the attacks of a lethal vegetation in exchange for the single bud that will give Mankind immortality... A comic glimpse of dinosaurian bureaucracy... Creepy bio-mechanic horror, magical realism, neo-romantic space operas, Orwellian dystopias... All compete to dazzle the reader's eye in a truly outrageous bouquet of stories by an expert dreamer.

"Jean-Claude Dunyach and his stories represent the workings of a multiplex engine of creation, its multiple cylinders all entrained in perfect unison, and whirring at high speculative RPMs!" Paul Di Filippo

Find out why The Night Orchid was called "one of the most successful single-author collections I've read for some time" (Alien OnLine) and "a definite must read for science fiction fans" (Blether) and Dunyach "one of the most talented imaginations living today" (David Brin).

"A must-read, not only for people interested in French SFF, but on account of sheer imaginative brilliance and top-class writing... After this banquet, from now on I shall immediately read any new story by Dunyach that I see; and so should you." Ian Watson.

Contents:
Foreword by Paul Di Filippo
Trajectory of Flesh
A Wish for the Fay
Come into my Parlor…
Homecoming
Birds
Separations
Making the Rounds
Spun Sugar
Stay Tuned…
Action Memo
The Clickety-Clack People
The Dead Eye of the Camera
What the Dead Know
The Heart of the Pearl
The Thieves of Silence