To-Ho and The Gold Destroyers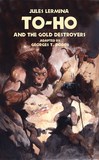 NOTE: YOU ARE PURCHASING AN E-BOOK, NOT A PAPER BOOK. WHEN ORDERING, PLEASE SPECIFY IN THE COMMENTS IF YOU PREFER A PDF OR AN EPUB FILE. THE FILE WILL BE E-MAILED TO YOU AS SOON AS PAYMENT IS RECEIVED.


TO-HO AND THE GOLD DESTROYERS
by Jules Lermina
adapted by Georges T. Dodds
cover by Mike Hoffman

"If it is of To-Ho which you speak, child, he is more than an ape, yet less than a man--but still better than a man."

During the bloody Dutch-Aceh War in Sumatra at the end of the 19th century, 10-year-old George Villiers is about to be sacrificed by a Malay witch doctor when he is rescued by To-Ho, the member of a peaceful tribe of ape-men who secretly live hidden in the jungle. George is then raised among the ape-men, and meets a reclusive scientist who has developed a compound, phoebium, which destroys gold, hoping to save the tribe from hordes of invading prospectors who threaten their isolation…

Jules Lermina's To-Ho and the Gold Destroyers was first published in 1905 in Le Journal des Voyages. Its tribe of ape-men and the story of the human boy which they rescue and raise as their own predate Tarzan by seven years.

This volume also includes an introduction by Brian Stableford and over 20 original illustrations by Charles Clérice.

Georges Dodds is a research scientist who also writes a column on early imaginative literature for the newsletter of the Montreal Science Fiction and Fantasy Association. He is the author of The Ape-Man his Kith and Kin, a collection of texts which prepared the advent of Tarzan of the Apes.
Contents:
- To-Ho and the Gold Destroyers (To-Ho Le Tueur d'Or, 1905);
Introduction by Brian Stableford.