Doc Ardan: The Abominable Snowman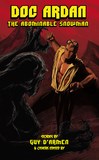 DOC ARDAN: THE ABOMINABLE SNOWMAN
and Other Tales from the Société Secrète des Aventuriers
by Guy d'Armen and Others
edited by J-M. & R. Lofficier
cover by Vincent Laik

US$22.95/GBP 12.99
5x8 tpb,288 pages
ISBN-13: 978-1-61227-564-2

Doctor Francis Ardan, intrepid explorer and polymath, was created in the 1920s by French writer Guy d'Armen for the French pulp magazine, L'Intrépide.

After publishing three of his novel-length adventures in English, we offer here four original short stories taken from the pages of L'Intrépide, in which see the fearless hero tackle a Yeti, a Witch Doctor, a vampire and a giant bat.

In addition, this collection contains twelve other stories, including four written especially for this volume, in which Doc Ardan faces such exotic threats as the Beast of Gevaudan, the Queen of Atlantis, Natas the Devil Doctor, the Morlocks and more.

The book also includes a new listing of Ardan stories and "Before the Bronze Age," an article revealing the connections between Ardan and a world-famous bronze hero.

Contents:
Before the Bronze Age
Additional Bibliography
Guy d'Armen: From the Archives of the Société Secrète des Aventuriers
1. The Abominable Snowman.
2. The Giant Bat
3. The Vampire of the Hamada.
4. The Lair of the Javanese Witch-Doctor
Rick Lai: The Midas Menace. (new)
John Peel: The Biggest Guns.
Jean-Marc Lofficier: The Star Prince.
Vincent Jounieaux: The Dreadful Conspiracy.
Travis Hiltz: Family Reunion
Jason Scott Aiken: Ardan at the Pole. 1
Christopher Paul Carey & Win Scott Eckert: Iron and Bronze.
Matthew Dennion: A Scientist First and Foremost (new)
Peter Gabbani: Small Dreams of a Floating City. (new)
Win Scott Eckert: The Eye of Oran.
Win Scott Eckert: Les Lèvres Rouges.
Win Scott Eckert: The Vanishing Devil
Credits.