Doc Ardan: The Fall of Inramonda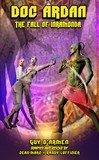 DOC ARDAN: THE FALL OF INRAMONDA
by Guy d'Armen
adapted and retold by J-M. & R. Lofficier

cover by Phil Cohen
The extraordinary and deadly power of the green rings was something Ardan had anticipated, but to see them actually in action killing a man was something that shook the young man to his core.
US$ 20.95 /GBP 16.99
5x8 tpb, 244 pages
ISBN-13: 978-1-61227-977-0

In the summer of 1921, young doctor Francis Ardan and his father are exploring the most remote regions of Upper Siam (now Thailand), when they encounter a dying man whose skin is the color of jade. His revelations lead the intrepid father-and-son team to discover the existence of Inramonda, a secret, underground realm ruled by an immortal tyrant known as His Eternal Wisdom, whose subjects are a race of artificially created "Jade Men." He plots to seize power in Southeast Asia.

Scientist and world-saving explorer Doctor Ardan was created in 1928, five years before Doc Savage, by French author Guy d'Armen. The Fall of Inramonda, originally published in 1935, has been adapted by the award-winning team of Jean-Marc & Randy Lofficier.

The book also includes a Doc Ardan novella by renowned Doctor Who author John Peel.
Contents:
La Fin d'Inramonda (1935)
John Peel: The Eye of the Hawk
Introduction by Jean-Marc Lofficier