The Murderer of the World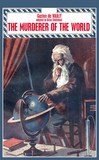 THE MURDERER OF THE WORLD
by Gaston de Wailly
adapted by Brian Stableford
cover by Henri Thiriet

"The moment has come! Lift up your hearts! Watch the judiciary strike of the Avenger of Humankind, the Master of Death, the Murderer of the World!"

US$ 20.95 /GBP 12.99
5x8 tpb, 244 pages
ISBN-13: 978-1-61227-408-9

In The Murderer of the World (1910), Gaston de Wailly imagined that the Earth is a living being, whose surface we inhabit as parasites. Moved by revenge against the "evil beast" which destroyed his family, a mad scientist schemes to literally murder the world by striking one of its vital organs.

The novel may seem primitive to a modern eye but its mind-boggling scope and action-packed plot gives it a certain reckless bravado.

Contents:
Le Meurtrier du Globe (Tallandier, 1925)
Introduction, Afterword and Notes by Brian Stableford.