The Necessary Evil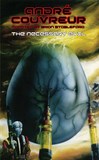 THE NECESSARY EVIL
by André Couvreur
adapted by Brian Stablefords
cover by Mandy

With a single stroke, Caresco had brought his scalpel directly to the place he wanted to go. That magisterial cut immediately denoted the astonishing precision of gesture with which he was endowed.

The Necessary Evil (1899) features Dr. Armand Caresco, a conscienceless surgeon carrying out medical experiments. Caresco sees himself as an intellectual superman whose discoveries might enable humankind to take a leap forward. This daring book dared to broach such shocking topics as the methodology and occasional necessity of hysterectomies.

André Couvreur (1863-1944), himself a medical doctor, depicts Caresco's surgical exploits in an explicit, even flamboyant, fashion that harks back to the notorious Marquis de Sade. In spite of his flagrant disapproval of Caresco's morality and alleged madness, Couvreur remains willing to give his views serious consideration, and to explore their potential in a manner that refuses to write them off merely because they are tainted with megalomaniac delusion.
André Couvreur (1865-1944) was a medical doctor who penned several medical treatises, and was also the author of eight romans scientifiques dealing with "medical concepts" featuring the mad scientists Doctor Caresco, then Professor Tornada. These are collected in a series of five volumes, translated and annotated by Brian Stableford, presenting for the first time the ground-breaking works of this pioneer of French science fiction.

"Couvreur's works are unusually exotic, and unparalleled in the history of imaginative fiction." Brian Stableford.

US$24.95/GBP 16.99
5x8 tpb, 360 p.
ISBN-13: 978-1-61227-253-5