The Young Vampire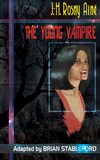 THE YOUNG VAMPIRE AND OTHER CAUTIONARY TALES
by J.-H. Rosny Aîné
adapted by Brian Stableford
cover by Vincent Laik

"Since you're sure of not being Evelyn, you must be the being incarnate in her body."
"I can't answer you. I don't have the words to say what I'd need to say. I only know that the memories I find in this body-before my arrival-aren't mine."
"Do you have other memories that contradict Evelyn's?"
"I don't have the words to explain them…and this brain has no images to enable me to recall my own past. They're memories of another world!"
"But you must have a memory of the moment when you invaded Evelyn's body?"

Contents:
- The Witch (La Sorcière) (1887)
- The Young Vampire (La Jeune Vampire) (1920)
- The Supernatural Assassin (L'Assassin Surnaturel) (1923)
- Companions of the Universe (Les Compagnons de l'Univers) (1934)
Introduction and Afterword by Brian Stableford.

US$ 22.95 /GBP 14.99
5x8 tpb, 284 pages
ISBN-13: 978-1-935558-40-8

In The Young Vampire (1920), a London girl is possessed by an extra-dimensional entity which mutates her body and turns her into a living vampire. The Supernatural Assassin (1923) tells the tale of a murderous wraith. Finally, Companions of the Universe (1934) is Rosny's last, great novel, a brilliant scientific romance in which a secret group of physicists attempts to breach the limits of the universe beyond photons, sub-particles and wave-sequences; while at the same time offering an in-depth study of the perversity of human sexual relationships.
J.-H. Rosny Aîné is the second most important figure in modern French science fiction after Jules Verne. Rosny, who was a member of the distinguished Goncourt literary academy, was also the first writer to straddle the line between mainstream literature and science fiction. Until now, Rosny has best been known to the English-speaking public for his prehistoric thriller, Quest for Fire.

This is a series of seven volumes, six of which are translated and annotated by Brian Stableford, devoted to presenting the classic works of this giant of French science fiction.

Consulting editor: Paul Wessels.