Trilby * The Crumb Fairy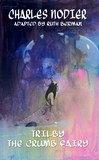 TRILBY * THE CRUMB FAIRY
by Charles Nodier
adapted by Ruth Berman
cover by Mike Hoffman

"I think the monster's looking at me!" said a woman. "Shut your basilisk-eye, you viper-soul, heaven curse you!"

US$22.95 / GBP 14.99
6x9 tpb, 296 pages
ISBN-13: 978-1-61227-455-3

As a child, Charles Nodier had witnessed the guillotine in bloody action in Revolutionary France. Decades before Freud, the knowledge that nightmares could come to life made him sensitive to the irrational as an important part of experience. Rebelling against the devotion to Classical Reason hailed in 18th century France as the best way to think about any topic, Nodier championed Romanticism and Fantasy as a way to look at experiences demanding more intuitive understanding, such as beauty, terror, or love.

The hell-demon Smarra (1821) was only a nightmare, the menace of a single night for the dreamer Lorenzo. But for Lucius, the ancient Greek wanderer lost inside the dream, Smarra brought literal death and a rebirth into terror.

Jeannie thought the brownie Trilby (1822) was a gentle trickster, a help in the household chores. The pious monk Ronald thought a brownie was a demon, opening the way to damnation. Love might give Jeannie the courage to stand by her puckish admirer.

Only Michael the Carpenter was foolish enough to believe that The Crumb Fairy (1832), the little old beggarwoman fed from the crumbs of the children's lunches was really the beautiful Queen of Sheba. But was his folly really madness - or wisdom?

Ruth Berman's translations of French fantasy have been published by Aqueduct Press, Tales of the Unanticipated, Fantasy Macabre, and Space and Time. Her novel Bradamant's Quest was published by FTL Publications.
Contents:
THE CRUMB FAIRY
TRILBY
Bean-Treasure and Peaseblossom
The Dream of Gold
Goodman Genie
Love and the Grimoire
The Man and the Ant
Smarra, or The Demons of the Night

Charles Nodier (1780-1844) was a writer and librarian who, in 1824, was appointed to the librarianship of the Bibliotheque de I'Arsenal in Paris, which became a rallying point for many of the most famous authors of the 1830s: Aloysius Bertrand, Alexandre Dumas, Victor Hugo, Alfred de Musset, Sainte-Beuve, etc. In 1821, Nodier wrote Smarra ou les Démons de la Nuit (Smarra, or The Demons of the Night), a series of terrifying dream-based tales. In 1820, Nodier wrote the play Lord Ruthven based on the Polidori story. Smarra, too, was a fantasy saga, in which a Byronesque hero encountered fairies and vampires, perhaps the first mixture of traditional and modern fantastic elements under a single cover. Nodier also penned popular gothic novels such as Les Proscrits (The Proscribed) (1802) and Le Peintre de Salzbourg (The Painter of Salzbourg) (1803)