Guardian of the Republic / Zembla / Morgane / Ozark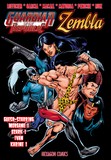 GUARDIAN OF THE REPUBLIC / ZEMBLA / MORGANE / OZARK

THE RESURRECTION OF LORD RAVEN!
Story: J.-M. Lofficier; Art: Eduardo Garcia, Alfredo Macall, Gabriel Mayorga, Manuel Martin Peniche, José Luis Ruiz Pérez.
cover: Roberto Castro

After the mighty shaman Ozark triumphed over the evil wizard Maleficus, the seven powerful mystic gems known as the "Fingers of Shivar" were scattered through time and space. But the witch Alecto plots to reunite them in order to take revenge on Morgane, whom she holds responsible for the death of her lover, the sinister Lord Raven, and resuscitate the latter in the body of Maxime Saint-Clair, the Guardian of the Republic! Only the combined efforts of Zembla and Ozark can save the French hero from such a dreadful fate.

Guest-starring: Ivan Karine the Cossack and the Napoleonic Guardian!

This prodigious saga takes us from Tsarist Russia to the City of Lights via the African Republic of Karunda and Rapid City, South Dakota. It is brilliantly illustrated by the Hexagon Comics team: Eduardo Garcia, Alfredo Macall, Manuel Martin Peniche, Gabriel Mayorga, José Luis Ruiz Pérez, and Roberto Castro!



7x10 squarebound trade paperback, 56 p. b&w
ISBN-13: 978-1-64932-068-1 - US$12.95