Tales of the HexagonVerse #4: Time and Gravity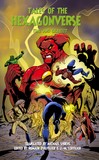 TALES OF THE HEXAGONVERSE #4: TIME AND GRAVITY

short story collection edited by Romain d'Huissier & J.-M. Lofficier; translated by Michael Shreve.

Stories by Hervé Bourgade, Francis Brenet, Cédric Burgaud, Nelly Chadour, Fabien Clavel, Barbara Cordier, Romain d'Huissier, Vincent Lenga, Sullivan Lord, Ghislain Morel, Xian Moriarty, and Krystoff Valla.

cover by José Luis Ruiz Pérez.

US$ 20.95 /GBP 18.99
5x8 tpb, 240 pages
ISBN-13: 978-1-64932-142-8

Since the dawn of time, tales about larger-than-life heroes have fascinated humanity.

A time-displaced Jaydee and Prince Kabur confront a stone giant… Young Ivan Wolonsky and Morgane investigate ghostly happenings at a holiday camp... Si billa is drawn into her friend Leonardo Verga's nightmares... Phenix teams up with Starlock to defeat crime lord Vega... Zembla and Kit Kappa thwart an evil plot brewing in the jungles of Karunda... Jaleb the Telepath and journalist Dave Kaplan must stop Phantom from turning men into neanderthals... Dick Demon and Stormshadow battle their arch-enemy Kruge... Also featuring Lagrid, the Sea King, Râ, the Man of Brass, and the Black Lys!

Hexagon Comics is one of the oldest French comics universes, with origins going back to the 1950s. Reinvented and modernized in the early 2000s, some of its best and most original characters are featured in this collection that brings together the talents of 12 international authors.

Contents:
Foreword by Jean-Marc Lofficier
Ghislain Morel: Time and Gravity.
Xian Moriarty: The Latest Brew..
Cédric Burgaud : The Last Time.
Nelly Chadour: The Big Sleep.
Hervé Bourgade: Alone, We Travel Fast; Together, We Travel Far
Barbara Cordier: Dream Vacation.
Krystoff Valla: Degeneration.
Vincent Lenga: All Men Harbor A Wild Beast
Romain d'Huissier: The Final Plague.
Fabien Clavel: The Secret of Altotas.
Francis Brenet: Shadow and Light
Sullivan Lord: The Man of Brass.
About the Authors.