Rouletabille at Krupp's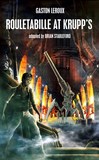 ROULETABILLE AT KRUPP'S
by Gaston Leroux
adapted by Brian Stableford
cover by Genkis & Sev

It's quite simply a matter of saving Paris, my young friend. Do you hear, Rouletabille? Saving Paris!

US$ 20.95 /GBP 12.99
5x8 tpb, 228 p.
ISBN-13: 978-1-61227-144-6

In Rouletabille at Krupp's (1917), Gaston Leroux followed the template created by John Buchan in Greenmantle (1916), in which a heroic secret agent is conscripted to carry out an officially-sanctioned dangerous mission in enemy territory. Here, it's fearless investigative journalist Joseph Josephin, aka Rouletabille, who is sent into the heart of the Kaiser's armaments factories to destroy the gigantic German super-weapon Titania, capable of annihilating Paris itself in a single shot.

The novel displays Leroux's fascination with, and talent for, the bizarre. As a reflection of the imaginative concerns of the French in 1917 and the revised policy of wartime propaganda that took full effect in that year, it has a stark specificity and punctiliousness that are unmatched.
Contents:
- Rouletabille chez Krupp (1917-18) by Gaston Leroux
Introduction and Notes by Brian Stableford.