The New Exploits of Joseph Rouletabille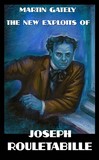 THE NEW EXPLOITS OF JOSEPH ROULETABILLE
By Martin Gately
Cover by David Rabbitte

Rouletabille's shot passed directly through the murderer's left eye socket and into his brain.
US$ 22.95 /GBP 18.99
5x8 tpb, 272 pages
ISBN-13: 978-1-61227-991-6

Journalist Joseph Josephin, aka Rouletabille, is an idealized projection of its creator, Gaston Leroux, and was originally conceived as a "rival" of Sherlock Holmes and Arsène Lupin. He "borrows" his prodigious deductive powers from Auguste Dupin, M. Lecoq, Holmes and Hercule Poirot, and solves the mysteries he encounters using what he calls "the good bit of reason." The Rouletabille series has justly become a classic of detective literature.

Martin Gately, author of the authorized sequel to Philip José Farmer's The Green Odyssey, has also written the Starblazer comic book published by DC Thomson and occasionally contributes to the British edition of the Fortean Times. His latest work is an adaptation of Edgar Rice Burroughs' Pirate Blood as a comic book.

Martin is also a regular contributor to Tales of the Shadowmen, where the Rouletabille stories gathere in this collection were first published..


CONTENTS:
Foreword by Jean-Marc Lofficier
The Terror of the Shangaï-Express.
Rouletabille in London
The House of Despair
The Yellow Terror
Leviathan Creek.
Rouletabille vs The Cat (1)
The New World Order
Rouletabille vs The Cat (2)
Rouletabille on Mysterious Island.
Afterword by Martin Gately