The Sacred Fire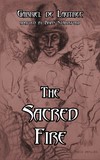 THE SACRED FIRE
by Gabriel de Lautrec
Adapted by Brian Stableford
cover by Mario Mercier
It could be compared to the philosopher's stone, or the ember placed by an angel on the lips of Moses…
US$20.95/GBP 12.99
5x8 tpb, 212 pages
ISBN-13: 978-1-61227-876-6

The present volume contains De Lautrec's short novel The Sacred Fire (1904), and a selection from short prose poems (1898). The latter benefit from being juxtaposed with the former because one of the episodes of the novel reveals the circumstances in which they were composed, with not only explains their surreal nature but allows them to serve as an illustration of the argument made in that episode.

The Sacred Fire opens with a description of a secret ritual practiced by one of the cults of the French Occult Revival, and much of the discussion featured in the story deals with the nature and philosophy of magic. Despite its ground-breaking nature, it never achieved publication in volume form until now.

The prose poems are among the most important precursors of surrealism, contemporary with the most significant contributions that Alfred Jarry made to the preliminary foundations of that movement. They are among the most extreme examples of the Decadent Movement, and together with the short novel a fascinating commentary on its psychology and esthetics.


Contents:
Introduction
The Sacred Fire (1904)
Poems in Prose: (1898)
Sad Pride
Counsel
The Ladies of Heart
Letter to Manon
Moonlight
Watercolor
For the Astonished
Chat
The Obscure Soul of Golden Caskets
Dream
The Mistresses of Poets
Praise for the Bacchante
Eulogy
Royal Hands
For a Demon
Wish
For Silla
The Bust
Hertulie
Opportune Song
An Encounter with the Soul of Watteaus
The Gift of the Book
The Invisible Soul
Posthumous Poem
A Fantastic Tale
The Forest
Prayer
The Dark Star
The Urn