Guardian of the Republic/Count Saint-Germain/Scarlet Lips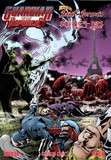 GUARDIAN OF THE REPUBLIC & COUNT SAINT-GERMAIN & SCARLET LIPS by Jean-Marc Lofficier & Manuel Martin Peniche; cover by Manuel Martin Peniche
I have never faced such a threat! Yet I mustn't fail! France's future is at stake!

It is Christmas Eve in Paris and the dead emerge from the catacombs, dressed as ghastly Santa Clauses, plunging the French capital into total panic.

Faced with this terrifying threat, the Guardian of the Republic and Marianne find two unexpected allies: the immortal Count Saint-Germain and the vampire Scarlet Lips.

But will even they be enough to stop the threat posed by the Hangman of Bethune and his mysterious new ally, Baphomet?

A blood-curling Holiday saga told at the fireside by Jean-Marc Lofficier and Manuel Martin Peniche.



7x10 squarebound comic, 48 pages b&w
ISBN-13: 978-1-64932-093-3. US$9.95