Guardian of the Republic/Doctor Omega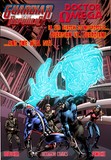 GUARDIAN OF THE REPUBLIC & DOCTOR OMEGA by Jean-Marc Lofficier & Manuel Martin Peniche; cover by Manuel Martin Peniche

Berlin, April 1945... Amidst the ashes of the Nazi defeat, a quartet of mad scientists decides to continue the experiment of the Third Reich by creating a futuristic version of Nazi Germany, which they christen—Metropolis!

The Guardian of the Republic and Marianne, on leave from the Partisans, managed to infiltrate Metropolis at the time of its creation, but become its prisoners while it now threatens to invade and conquer other dimensions...

The mysterious space-time traveler known only as Doctor Omega joins forces with the modern-day Guardian to destroy Metropolis, but what will happen when these two Guardians from different eras clash... What if one of them was to commit the ultimate sacrifice?

An essential chapter in the prodigious history of the Guardian of the Republic is revealed at last, brilliantly illustrated by Manuel Martin Peniche.

7x10 squarebound comic, 48 pages b&w
ISBN-13: 978-1-64932-057-5. US$9.95