Phenix / Sibilla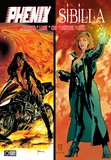 PHENIX / SIBILLA

PHENIX: THE VEGA SANCTION (story: J.-M. Lofficier; art: Edouard Cop; colors: Reed Man)
PHENIX & SIBILLA:: SIDE-BY-SIDE WITH SIBILLA (story: J.-M. Lofficier; art: Frédéric Grivaud; colors by Eduardo Garcia)
SIBILLA: GHOSTS (story: J.-M. Lainé; art: Stephane Roux; colors: Karine Boccanfuso)

Chicago's super heroine, the fearless leather clad, bike-riding Phenix, and the mysterious Italian enchantress Sibilla, once fought together alongside Top Cow's Witchblade against the infamous mass murderer, Gilles de Rais in Blood Oath (2003).

But the story of their first encounter has never been told -- until now!

In these pages you'll discover how Phenix first crossed paths with Sibilla, with a bonus 12-page story featuring one of Sibilla's supernatural investigations in New York, drawn by Stephane Roux.

Also included in this comic is a stand-alone Phenix adventure in which our indomitable heroine takes on the merciless Vega Cartel.

7x10 squarebound comic, 64 pages color
ISBN-13: 978-1-64932-071-1 - US$19.95