Scarlet Lips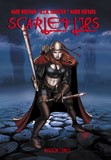 SCARLET LIPS: CRIMSON DAWN!
story by Marv Wolfman; script by Jean-Marc & Randy Lofficier; art by Mario Guevara

US$ 9.95 / GBP 7.99
7x10 tpb, 48 pages b&w
ISBN-13: 978-1-61227-790-5
I am SCARLET LIPS! I do not know mercy!
From the darkest streets of Venice in the 16th century to the lonely beaches of Yucatan today... From the Île Saint-Louis in Paris to Hitler's Germany... the vampire Scarlet Lips leads a merciless war against the mysterious organization called "the Dawn," with the fate of the human race in the balance...

Spanning the centuries, Scarlet Lips crosses the paths of Dragut, the Black Lys, the Prince of Night and the Partisans... She struggles to defeat a fantastic conspiracy which threatens not only her survival but also that of her race, the legendary Twilight People...

Marv Wolfman (Tomb of Dracula), Jean-Marc Lofficier (Dr. Strange) and Mario Guevara (Solomon Kane) have crafted here a saga imbued with blood and wonders, illuminating the entire Hexagon Universe with a crimson glow!